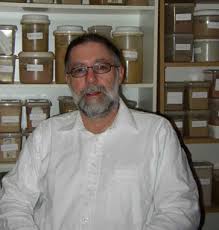 Shakya Dorje is a fully qualified Emchi, or physician of Tibetan medicine. His practice is based in Toronto, Canada.He studied the Tibetan medical system intensively as an apprentice under the eminent Tibetan physician, Ven.Dr.Trogawa, Rinpoche from 1983-1990. This apprenticeship consisted of a complete study of the classics, in-depth teaching on diagnosis and treatment, detailed instructions during consultations with thousands of patients, study and practice in compounding, and herb gathering expeditions. He translated for his teacher at numerous conferences. Like every oriental apprentice he also served his master. During this time he was also sent to study with other prominent physicians, most particularly Lamen Tenzin Chodak and Nyerongsha Kunga Gyurme.
He was given his qualification as both a physician and as a pharmacist in the Tibetan tradition in 1989. He has based his practice in Toronto since 1991. Shakya Dorje first encountered the Tibetan milieu as a young man in 1968. He then began an intense involvement in Buddhist spiritual practice, and an immersion in the culture. He studied the Tibetan language intensively, and from 1971 worked frequently as an interpreter for lamas of all Tibetan spiritual traditions. He lived in the Himalayas for fifteen years. He first encountered Ven.Dr.Trogawa, Rinpoche in 1968, but did not yet have adequate background in Tibetan language, Buddhist philosophy and spiritual practice, or the Tibetan culture to undertake medical studies. From 1968 on he received teachings in Buddhist meditation and understanding from Chatral Sangye Dorje, Rinpoche. He also studied and practiced under various other Buddhist teachers of note including Khenpo Palden Sherab (professor, Tibetan Institute of Higher studies, Varunasi, India), the Drukpa Kagyud master Apo Yeshe Rangdrol, the Karma Kagyud master Khenpo Thrangu Tulku, and Nyingma masters H.H.Dudjom Rinpoche and Thinley Norbu Rinpoche. He worked frequently as an interpreter for these and other lamas, including a long teaching tour with Beru Chentse Rinpoche. He translated three books of teaching in this time. Throughout the 70 's he also pursued his fascination with Tibetan medicine by working with local physicians whenever he could, and maintained his connection with Ven.Dr.Trogawa Rinpoche. Only after he had demonstrated an understanding of Dharma and a capacity with the language and culture was he accepted as an apprentice. In order to gain the qualification of "Chagpori physician" students of the Chagpori lineage studied in one of two ways: study at the monastic college itself, called "zhung-lug" and private study under a master of the lineage, called "man-ngag-lug". Shakya dorje gained his qualification though the
latter mode of study.In 1983 Shakya Dorje was the chief interpreter at the 'First Conference of Tibetan Medicine' in Venice and Arcidosso, Italy, and in 1998 was one of the Emchis participating in the 'First International Congress on Tibetan Medicine' in Washington, D.C., sponsored by the National Institute of Health. Since 1990 he has maintained a clinic in Toronto, where he not only treats patients but also produces most of his own compounds according to ancient formulas. He currently visits a number of other cities regularly, where he also may be consulted.